Eight KTH startups have been selected for this year´s Bicky Chakraborty Entrepreneur Program. The program, which is aimed for KTH research and student entrepreneurs running innovative startups kicked off its third edition on 6th March, and welcomed participants developing solutions ranging from calculating the environmental impact of food production to creating software for advanced computational simulations. Elite Hotels Founder Bicky Chakraborty, whose 5 million SEK donation in 2016 started the initiative, also attended the event as well as our colleague Niklas Gustafsson from KTH Executive School, who developed the course plan.
The program run by KTH Innovation offers participants the following:
70 000 SEK in proof of concept funding
Workshops and lectures on business development, sales and scaling up addressing various aspects of business growth over time
An assigned mentor
Networking activities with innovation support hubs around Sweden
Read more about the kick-off here and find information about this year´s participants below.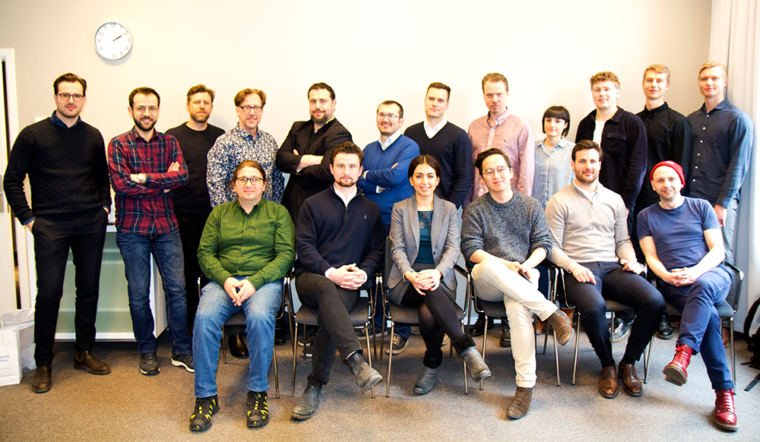 The eight startups participating the third edition of Bicky Chakraborty Entrepreneur Program
Apostar
Apostar is an e-learning tool for pharmacy staff. Using the Apostar app, pharmacy staff can develop their skills, stay updated on new pharmaceutical products, and look up information in conversation with customers.
Team: Taraneh Shojaei, Oliver Petri och Fredrik Sebek
Visit Apostar's website
Jaisy
Jaisy has developed a low-cost, non-invasive jaundice detector for newborns. The most common form of diagnosing jaundice is by blood sample, which can cause infection and stress in newborns, and requires hospital staff to have clinical competence. Of the around 100 million children born in developing countries today, around 60% develop jaundice. Jaundice is the cause of 15-30% of all neonatal deaths in those areas. The Jaisy team has reached promising results and have initiated clinical trials with Karolinska Institiute.
Team: Huseyin Aytug, Hasan Basri Celebi och Murat Cetiner
Visit Jaisy´s website
Zeat
Zeat has developed an app to help hotels increase sales to their guests, by offering a type of appstore for hotels. Services that can be purchased in the app include everything from pre-ordering drinks to reserving a sun chair. The team behind Zeat has initiated cooperation with TUI in Germany, and are very much looking forward to taking part of the Bicky Chakraborty Entrepreneur Program.
Team: Shun Huang, Alexander Askling, Joakim Askling & Rasmus Schaffert
Visit Zeat's website
Klimato
Klimato offers a service to calculate and present the Co2 emission of food, giving companies the opportunity of presenting, analyzing, and decreasing their environmental impact, while creating a good environmental profile and transparency in consumption choices. Klimato's service has already been integrated in restaurants, hotels and meal-kit subscription services. Apart from being a part of KTH Innovation's pre-incubator program, Klimato has gone through Sodexo's accelerator program "Sparx".
Team: Philip Claesson, Henric Hansson, Anton Unger & Christoffer Connée
Visit Klimato's website ​​​​​​​
Icarus Digital Math
This team of researchers has developed software for flow calculation in aerodynamic simulations for the aircraft-, space- and vehicle industries. Their software is ten times faster and cheaper than the global players on the market. Their tool is now used in teaching at KTH and has been recognized by NASA. The team has initiated a cooperation with Ferrari's Formula 1 stable, as well as a pilot project with Norwegian.
Team: Johan Jansson, Tamara Dancheva, Massimiliano Leoni och Ezhilmathi Krishnasamy
Visit Icarus Digital Math´s website ​​​​​​​
Smart Sensor Box
Smart Sensor Box (SSB) is a sensor solution used to monitor machines in the manufacturing industry, today faced with the need for digitalization, but with access only to expensive, laser-driven solutions. SSB is a product composed from accelerometers and rate gyroscopes, which combined solves manufacturing companies' need for optimizing the degree of capacity utilization, and maintenance of their machines.
Team: Károly Szipka ​​​​​​​ och Andreas Archenti ​​​​​​​
Monocular
In the movie industry, visual prototyping is an important part of pre-production. The most common solution today is using physical "storyboards". Monocular has developed an easy-to-use 3D software, which enables movie producers to change their storyboards in real-time. This creates a more efficient work-flow, and decreases the risk of misunderstanding and mistakes when filming. The team consists of researchers from KTH and Konstfack.
Team: Simon Alexanderson och Mirko Lempert
Visit Monocular´s website ​​​​​​​
SEEN XR
Smart Eye-tracking Enabled Networking (SEEN) can make VR in your mobile phone a reality over the 5G network. The goal of the SEEN project is to provide new network services using smart eye-tracking sensors to optimize data-heavy services and products in future mobile communications systems. SEEN has developed a world-leading solution by integrating eye-tracking in a VR headset and implementing and verifying a new streaming protocol that can save over 90% of bandwidth over a 5G network.
Team: Konrad Tollmar och Pietro Lungaro
Visit SEEN XR´s website ​​​​​​​
Source: KTH Innovation – Eight KTH startups creating future jobs